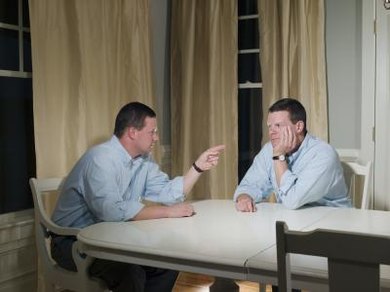 It is a sad statistic, but up to 45 percent of adults have a "rivalrous or distant relationship with a sibling," according to the article, "Sibling Rivalry Grows Up" in the Wall Street Journal. If you've grown up with a sibling relationship that seems always to be filled with rivalry or jealousy, you know how it can suck all of the happiness out of you when your sibling is around. Resolving your jealous feelings, or those of your sibling, can be the ultimate first step in repairing your relationship.
Focus on the Positive
If your relationship with your sibling is strained due to jealousy, it's easy to think about all of the negative events that affected your relationship without giving a thought to any of the positive ones. But try to remember the times that you enjoyed together as children -- without recalling the parts where he annoyed you. Think about how each of you might benefit if your relationship were stronger, or if you took the steps to repair it. If you have children, focus on whether you'd like your children to get to know your sibling, without the stress and negativity of your current relationship.
Look Through Their Eyes
Try to understand your sibling's perspective. This can be painful and difficult, especially if you feel that your sibling was at fault for the bad relationship, as if she has no right to be jealous of you -- or to make you jealous of her. But take the time to consider what childhood (or a stage of adulthood) looked like through your sibling's eyes. Was she always jealous of you because she thought you were smarter, prettier, or more beloved to your parents? Did he always feel like you looked down on him? Understanding how the dynamics in your relationship began may help you to appreciate your sibling's side of the story.
Take the Initiative
If you'd like your relationship with your sibling to change, it's up to you to take the first step. That might mean actually sitting down with your sibling to discuss why you've felt jealous or felt hat he was jealous, and why you want things to change. Alternatively, it may mean slowly taking the time and effort to send your sibling the message through action. Giving to your sibling -- inviting her over for a meal or coffee, offering to run an errand for her, or sending her a small gift "just because" -- can go a long way toward mending a relationship that is fractured because of jealousy.
Accept Any Attempts
If your sibling takes the initiative, or responds to your own actions, don't sell his attempts short just because they're not perfect. If he invites you to a show, don't get offended that it's one that's more his taste than yours. If his apology doesn't seem as authentic as you'd prefer, give him a chance to prove himself anyway. Give your sibling positive feedback, saying things like "You always know how to make me laugh" or "I love watching the way you play with the kids." In time, you'll be able to rebuild your relationship together.
Photo Credits
D. Anschutz/Photodisc/Getty Images